Partner on Designer Accessory 
NEW YORK, USA – Samsung Electronics Co., Ltd. and Opening Ceremony announced their partnership to join creative forces and design a special accessory collection including a "Stylish Cover" for the latest Samsung Galaxy S6 edge+ and Galaxy Note5 and "Battery Pack". The Opening Ceremony for Samsung collection launches at Samsung and Opening Ceremony retail channels in select countries.
Cutting edge design and the concept of pushing boundaries are always at the forefront of Opening Ceremony's aesthetic, and in turn, the brand's focus.
"We wanted to create designs that complement and enhance the Samsung devices and its sleek curves, while infusing an Opening Ceremony feel with favorite prints from our Spring 2016 runway collection," said Carol Lim, Co-founder and Designer behind Opening Ceremony. "We love the idea of personalizing mobile devices to reflect individual style." 
The collaboration aims to bring Samsung devices to life through a playful mix of patterns and colors. The collection includes two designs featuring Opening Ceremony Spring/Summer 2016 prints in colorways exclusive to Samsung, making these bold colors and dazzling prints accessible to anyone looking to transform their smartphone into a fashion accessory.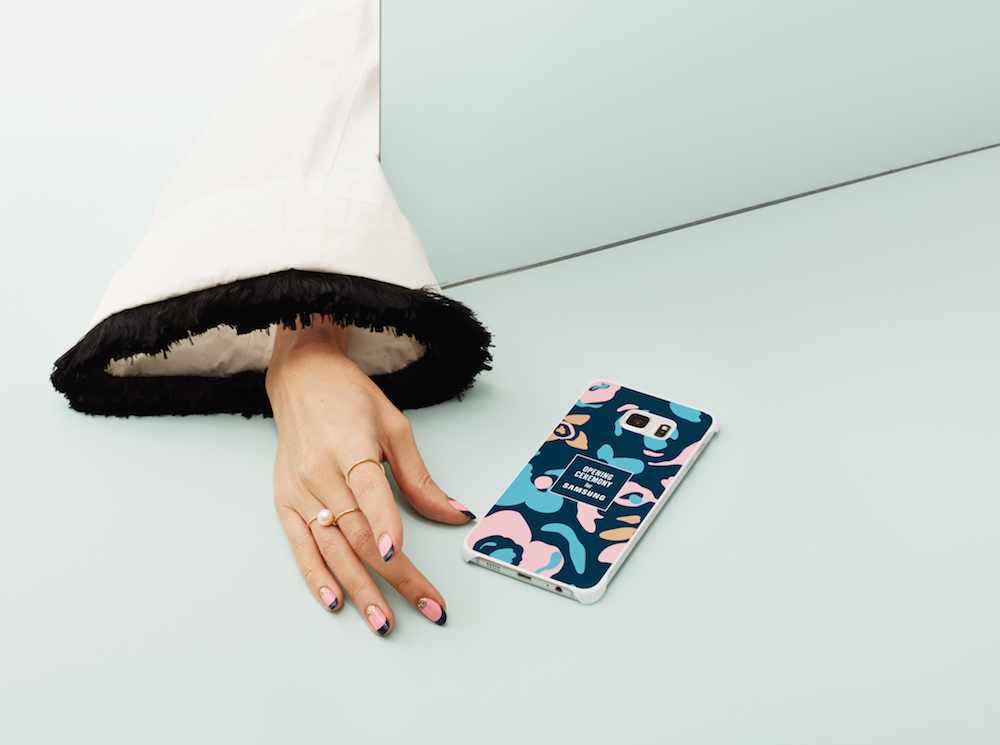 One design features an abstract cheetah print comprised of warm orange, peach, and pink tones, with yellow vertical strokes offset by navy. Another complementary design features an abstract curtain floral print, this time rendered in cool tones of varying blues, pink, and apricot. Both designs will be available in the "Stylish Cover" for the Samsung Galaxy S6 edge+, Note5 and in "Battery Pack".
"Samsung and Opening Ceremony's partnership shows how fashion and technology continuously serve as muses for each other, inspiring constant innovation and ideas across both industries," said Younghee Lee, Executive Vice President of Global Marketing, IT & Mobile Division at Samsung Electronics.
The Opening Ceremony for Samsung collection is the first step of Carol Lim and Humberto Leon, Co-founders of the company, working with Samsung to unite fashion and technology.
About Samsung Electronics Co., Ltd. 
Samsung Electronics Co., Ltd. inspires the world and shapes the future with transformative ideas and technologies, redefining the worlds of TVs, smartphones, wearable devices, tablets, cameras, digital appliances, printers, medical equipment, network systems, and semiconductor and LED solutions. We are also leading in the Internet of Things space through, among others, our Smart Home and Digital Health initiatives. We employ 319,000 people across 84 countries with annual sales of US $196 billion. To discover more, please visit our official website at www.samsung.com and our official blog at global.samsungtomorrow.com
About Opening Ceremony 
Opening Ceremony was founded in September 2002 in New York by Carol Lim and Humberto Leon—with the idea of bringing their love of travel and fashion to a concept boutique. The company has grown to encompass retail outlets in New York, Los Angeles, Nagoya, and Tokyo; the Opening Ceremony ready-to-wear, accessories and footwear collections for men and women; a wholesale showroom in New York; and a comprehensive online platform at openingceremony.us. Opening Ceremony has also become known for its myriad innovative collaborations, including with style icon Chloë Sevigny and filmmaker Spike Jonze. For more information on Opening Ceremony, please visit www.openingceremony.us.